HOW TO ANSWER: Tell Me About Yourself
"Tell me about yourself" is a job interview question that is guaranteed to come up in most (if not all) of your job interviews — regardless of your industry, experience level, and job type
The frustration of the job seeker usually comes as a result of trying to decipher exactly what the interviewer is looking for. However, if you prepare properly, there's no reason to dread this question.
In fact, this question is an opportunity — an opening for you to set the tone of the job interview and emphasize the points that you most want this potential employer to know about you.
Don't waste the opportunity by simply diving into a long recitation of your resume. This also isn't the time to mention that you love flamenco dancing and bingo (yes, I have seen candidates ramble on about hobbies and personal preferences many times and it's a surefire way to make a weak first impression).
Instead, try a concise, enthusiastic response that summarizes your big-picture fit for the job. In this article, we'll show you the Big Interview Formula for crafting your perfect response to "Tell me about yourself."
How Not to Answer "Tell Me About Yourself"
Before we jump into the Big Interview Formula for crafting the perfect answer, let's cover some of the most common mistakes you might make when answering "Tell me about yourself". (If anybody is giving you the following answers as advice — run the other way!)
1. The Resume Rehash
Many candidates respond by launching into a recitation of their resume from the very beginning. That can turn into a very long monologue that starts with one's oldest — and probably least relevant and impressive — experience. By the time you get to the good stuff, your interviewer has zoned out and is thinking about lunch.
Don't get me wrong. It's important to prepare a brief summary of the high points of each of your past positions. It is likely that you will be asked about your accomplishments and day-to-day responsibilities in previous roles. Ideally, this should come out in an engaging conversation, though, not a long monologue at the beginning of the interview. You'll only confuse your interviewer with information overload.
Even if the interviewer specifically asks you to "walk him through your resume," don't take the suggestion too literally. You can still lead with your elevator pitch and then segue into an overview of your most recent position, leaving plenty of opportunities for the interviewer to jump in and engage with you.
2. Mr./Ms. Modesty
Many of my interview coaching clients make the mistake of being too modest. They reply with a humble or vague introduction that fails to clearly communicate their strongest qualifications for the gig.
Some of these clients are just humble people who aren't comfortable with "selling" themselves. Others have never really had to worry about a strong pitch — they were always courted for new opportunities when the job market was stronger.
If you take time to prepare, you can find a way to present yourself to full advantage while staying true to your personality. For modest types, I recommend focusing on factual statements.
You don't have to brag, "I'm the best salesperson in the world." Instead, you can state, "I led my division in sales for the last three years and had the opportunity to bring in more than $18 million worth of new business during that time."
3. The First Date Approach
This is not the first date. Your interviewer does not want to hear that you like pina coladas and getting caught in the rain. Many recent grads misconstrue the question and talk too much about their personal lives and hobbies (especially if the question is asked as " tell me something that's not on your resume" or " tell me something unique about you".)
This is probably because many only have admissions and other school-related interview experience (clubs, programs, etc.). For these types of interviews, there is much more interest in who you are as a person. In job interviews, focus on who you are as a professional unless asked about hobbies or outside pursuits.
4. The Clueless Ramble
I have watched a surprising number of smart candidates totally flub this question because of overthinking. Their answers sound something like this: "You mean about my job experience or about my schooling or what kind of information are you looking for?"
I know that these candidates are aiming to please and that "Tell me about yourself" can be interpreted in many different ways. However, asking for too much clarification only makes you look hesitant and confused. Dive right in with the approach that we outlined for you above. If they are looking for something else, they will ask you for it.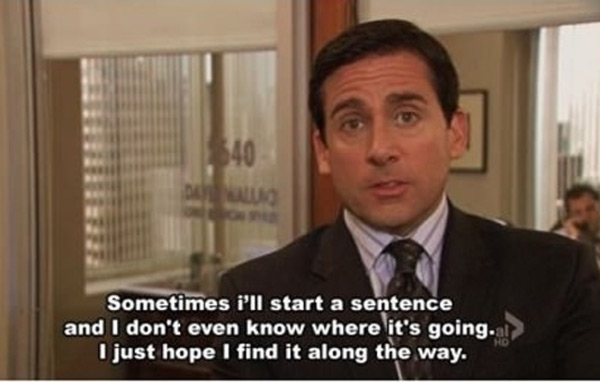 How to Answer the "Tell Me About Yourself" Interview Question
Examples might include a hobby that you are passionate about like quilting, astronomy, chess, choral singing, golf, skiing, tennis, or antiquing.
Interests like long-distance running or yoga that help to represent your healthy, energetic side are worth mentioning.
Pursuits, like being an avid reader or solving crossword puzzles or brain teasers, will help to showcase your intellectual leaning.
Interests like golf, tennis, and gourmet food might have some value if you would be entertaining clients in your new job. will demonstrate the seriousness of your character and commitment to the welfare of your community.
Interactive roles like PTA volunteer, museum tour guide, fundraiser, or chair of a social club will help show your comfort with engaging others.
If it feels daunting to generate an answer from scratch, you can rely on a simple formula to construct your answer. The "present-past-future" formula is a way to share key background points while ending on a high note.
Examples of the Best Answers
The best answers to this request are honest, brief, and confidently delivered. Your goal is to share something interesting about yourself that illuminates who you are as a person and an employee.
Example Answer #1
When I'm not working, I like to spend time exploring with my dogs. I take them hiking, visiting historical sites, or even just walking around town. A surprising number of people are drawn to dogs, and I always enjoy talking with who I meet. I feel that communication is one of the most important aspects of my professional life as well. When talking with people, being able to guide the conversation in a particular direction is one of the ways I've been successful in different situations at the office.
Why It Works: In addition to sharing a seemingly unrelated fact ("she likes dogs!") this answer also establishes that the candidate enjoys talking with people and understands the importance of communication—a valued skill in many roles.
Example Answer #2
I participate in charity walks several times a year. Recently, I did the Walk for Hunger and I have a few events planned for the summer and fall, as well. I walk for exercise with friends after work and on the weekends. I enjoy the fresh air, learning new routes, and connecting with new people. I also like the fundraising aspect, which has come in handy in my job. I've learned how to connect with people to increase their commitment to the cause.
Why It Works: This answer ties the candidate's hobbies back to skills that are useful on the job and demonstrates that they're responsible, community-minded person. Also, hobbies that involve fitness activities demonstrate energy and a commitment to health.
Example Answer #3
The past few years, I've gotten really into geocaching. I love the challenge of finding caches and spending time outdoors with friends. I like using my problem-solving skills to find the ones that are really well-hidden. Learning how people hide things—and where people are likely to look—has helped me tremendously in my design work. It's all about learning to see things through someone else's eyes.
Source:
https://resources.biginterview.com/interview-questions-answers/tell-me-about-yourself/
https://www.thebalancecareers.com/tell-me-about-yourself-job-interview-question-2060956
https://zety.com/blog/tell-me-about-yourself